How to choose your changing basket?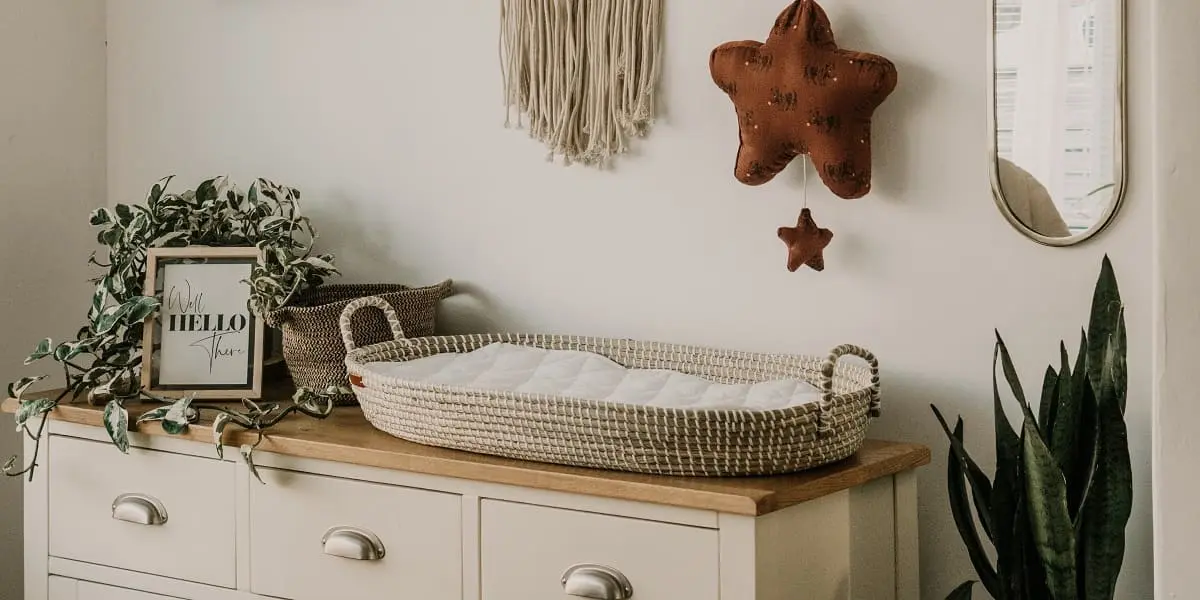 Trendy and practical, the changing basket has become an indispensable ally for new parents who want to change their baby easily and safely. In this article, we will see why a changing basket is important, what are the different types of changing baskets available on the market, and how to choose the best changing basket according to your needs and those of your child.
The changing basket: an essential ally for changing your baby!
The changing basket is an indispensable childcare accessory. It will allow you to take care of your baby from birth to about 2 and a half years to change and wash him.
Very easily transportable from one place to another, you just have to put it on a flat and stable surface, like a chest of drawers or a table, and it becomes a real changing table where you can change your baby until he doesn't wear diapers anymore.
Changing baskets can then be used as a storage basket after the diaper change, to store or keep your baby's accessories close at hand.
Finally, changing baskets have also become decorative objects in their own right that will stylishly decorate your child's room, your bathroom or your living room.
What are the different types of changing baskets?
Today, there are different types of changing baskets on the market that meet the needs and new uses of young parents.
There are changing baskets designed to be used as a crib or cot, while others are designed to be used as a changing table, for storage or simply to be easily transported. The most popular changing baskets today are made of wicker or rattan and include a soft, comfortable mattress for the baby.
How to choose your changing basket?
Before choosing the model of your changing basket, you must define the space you are going to reserve for it. Indeed, to choose the right changing basket, you must make sure that the model is adapted to your newborn. It is important that it has a place of choice, that it is comfortable, accessible and, of course, that it fits perfectly with your interior decoration.
Installed in a room, the changing basket can then be transformed into a small cradle, the proximity with the parents also plays a great role in the serenity of your child. On a table, a chest of drawers or in a bathroom, your changing basket can replace a changing table or a traditional chest of drawers.
Make sure you have enough storage space (boxes, shelves, drawers, changing bags, etc.) nearby to keep all of your baby's nursery and care accessories (bottle, cover, towels, wipes, etc.) within easy reach at diaper change or bath time.
For added comfort and convenience, choose a changing basket with high enough edges to keep your baby safe, and choose a good, comfortable mattress that makes changing easy. Finally, make sure it's easy to clean and opt for waterproof, easily removable, machine-washable covers to keep the changing pad clean and dry and your baby resting on soft cotton.
Our selection of changing baskets
You want to furnish a small children's room and give it a cosy and warm atmosphere? Opt for a rattan changing basket! Trendy and natural, rattan is a soft and comfortable material that adapts to any room in the house and has long been used for baby room furniture.
1. Vertbaudet – Changing basket made of corn leaves
Trendy with its vintage charm, this changing basket from Vertbaudet is shaped like a corn leaf and can be placed anywhere to change baby. It has a removable mattress to comfortably accommodate your baby, dress him or change his diapers.
Vertbaudet - Changing Basket
2. Yunioo – Changing basket Sydney
Tested and compliant with U.S. safety standards, this charming changing basket is made of soft and durable twisted cotton rope. The Yunioo Sydney changing basket includes a comfortable mattress with a removable, waterproof cover.
Yunioo - Changing Basket
3. Vesta Baby – Changing Basket
Discover the Vesta Baby changing basket, which brings a touch of bohemian style to your baby's room. Designed with great attention to detail, this changing basket, available in a variety of colors, is both practical and durable and provides a cozy nest for your baby to rest comfortably.
Easy to carry from room to room thanks to its ideal size, you'll have all the space you need to easily change your baby's diapers.
Made of sturdy cotton rope, the Vesta Baby changing basket includes a foam mattress for added comfort and comes with two waterproof, removable zippered covers for easy washing.
Vesta Baby - Changing Basket